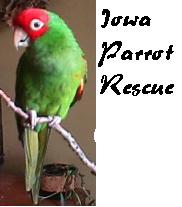 This page was last updated on: July 6, 2018
PLEASE SEE OUR
ADOPTING
PAGE
BEFORE
CONTACTING US ABOUT  A BIRD.
Click here to help feed the birds

We usually don't take cockatiels and other smaller parrots, but we currently have two bonded untame male cockatiels in need of home. We also have a very young female budgie who we hope will be ready for a home soon. Email for information.