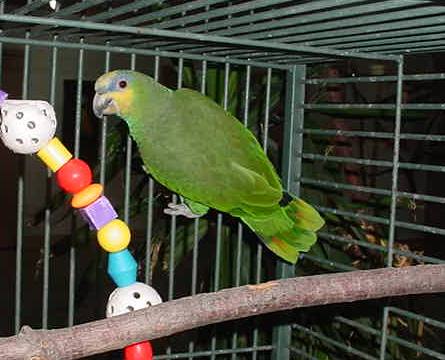 Pirate is a wildcaught orangewing, reported to have been imported OVER 60 years ago..Pirate doesn't like people. He does have a buddy, though...Bogey DYH has moved in with him and they are pals.

MANY OF OUR AMAZONS WOULD DO WELL IN HOMES THAT WOULD LIKE TO LOOK BUT NOT TOUCH. THAT MAKES THEM LESS COMPANIONABLE, BUT ALSO LOWER-MAINTENAINCE.

Paco is a red lored amazon who's been abused, has lived in the wilds of Waterloo, Iowa and survived, and is very stubborn about doing things his way. He still is refusing to be handled or step up..He does like to be talked and sung to while inside his cage. He's absolutely the prettiest red-lored I've ever seen, and is in excellent health. He's buddies with Tequila, an orange-winged amazon, and they take good care of each other. BOTH OF THESE BIRDS ARE WILD-CAUGHT IMPORTS, PROBABLY SMUGGLED. While it's possible that they could be tamed by a skilled and patient keeper, they may have to spend their lives just being parrots.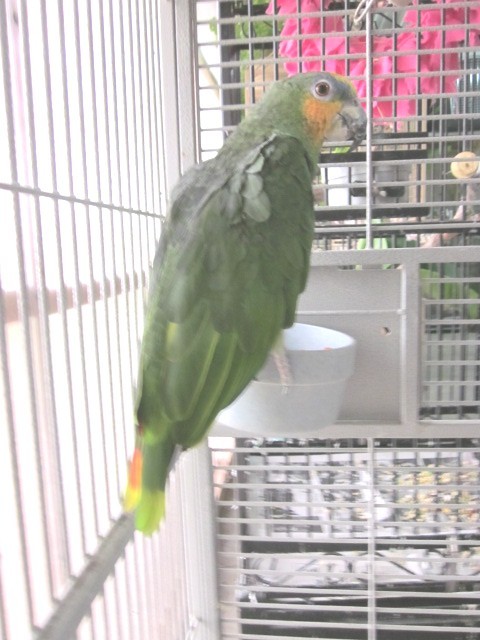 Elvis, one of the BFAs from the Tennesee parrot mill bust in 2011 AND the collapse of the Bailey Foundation,, is an older imported bird. He's bald-headed and has arthritis. He likes to have a cage with platforms and ramps so he can get around easier, and prefers to be where he can see other amzons without having to get too close. He's not hand tame.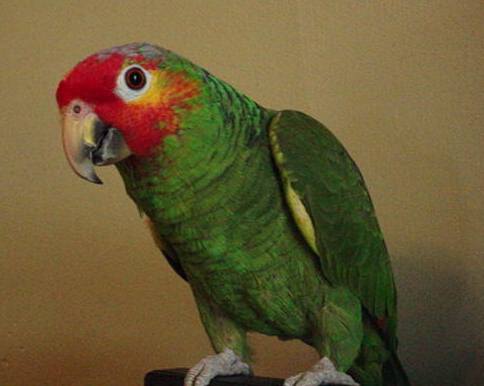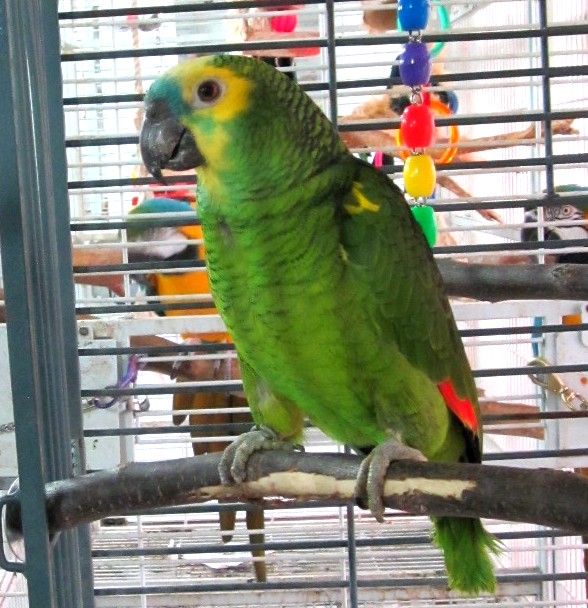 Kilgore is a bluefront male, age unknown...he has an import band. He's healthy and good-looking, but not tame at all.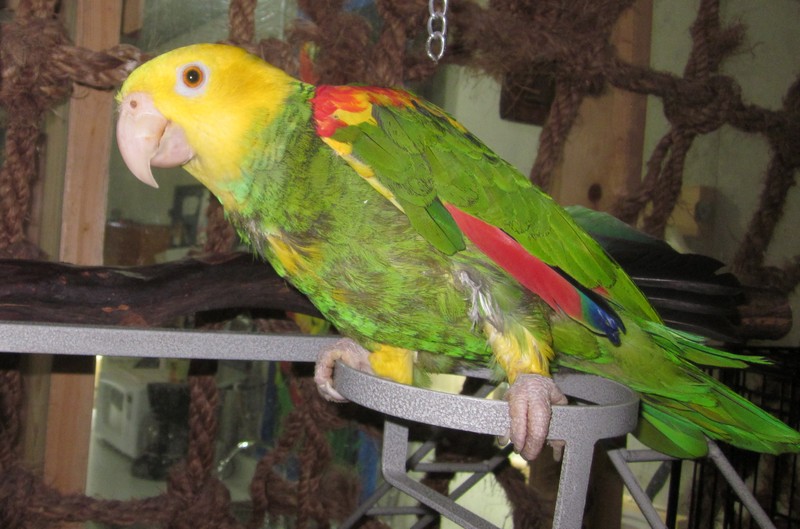 Bogie is a male double yellow-head, likely  of the Tres Marias subspecies. He's about  15, and is tame, but shy with men...he attacks women, and has bitten faces. .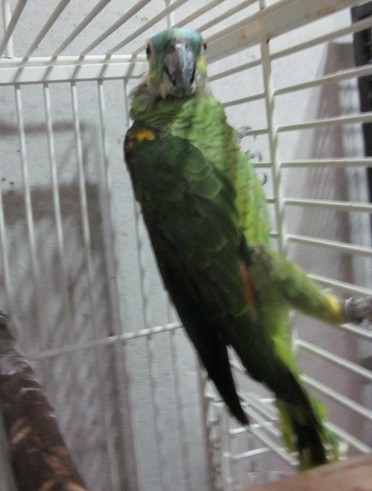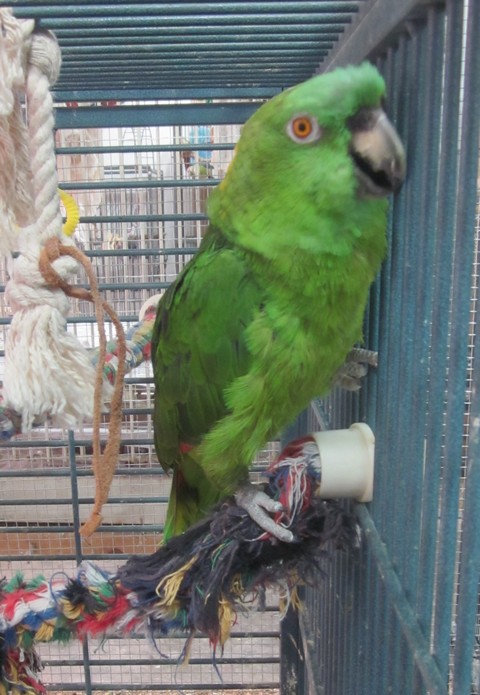 Maya is a female yellow-nape in her early 30s. She was tame once with her previous keeper, but han't found anyone she likes since she came here, and can be aggressive with people she doesn't like.

ON HOLD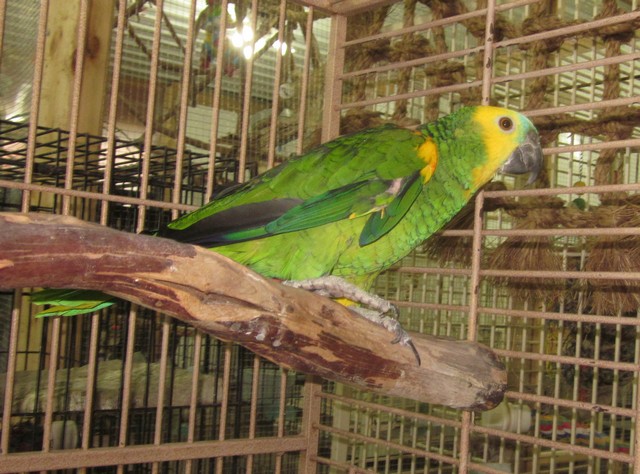 Papa is a widcaught bluiefront, age unknown. He's completely wild, and will need a look-but-don't-touch home.

Herkie is a 30 year old male orangewing. He is sometimes aggressive toward other amazons, and will do best as an only bird. He steps nicely on a stick, but is handshy. He has a minor medical issue that we're working on, a skin irritation on his rump.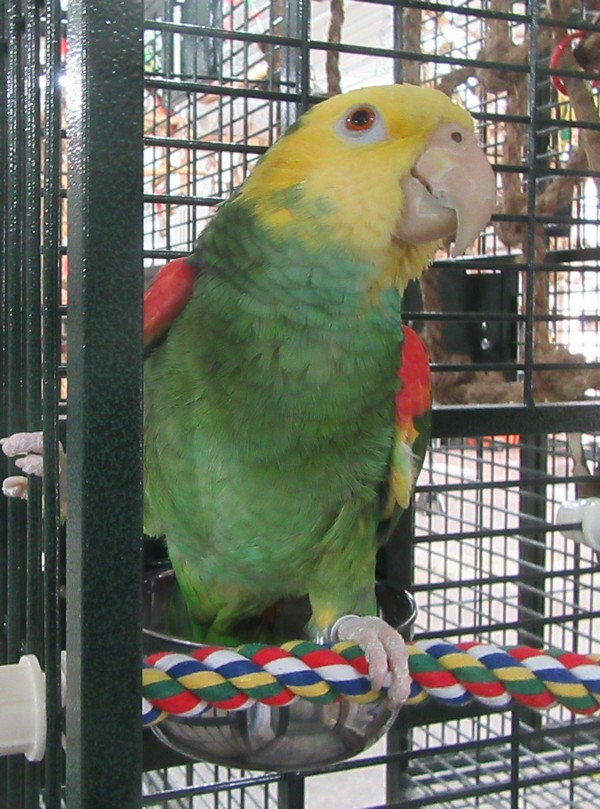 Maggie is a 23 year old female double yellowhead. She's pretty tame and friendly, prefers women, hates children, and is a fan of the Green Bay Packers.  She talks and sings a lot of the time, and wants a lot of attention. She's not appropriate for a home that can't have lots of noise. I want her to go to someone who's home most of the time, and someone who's younger...she needs a long-term home, and can expect to live another 40 years or more.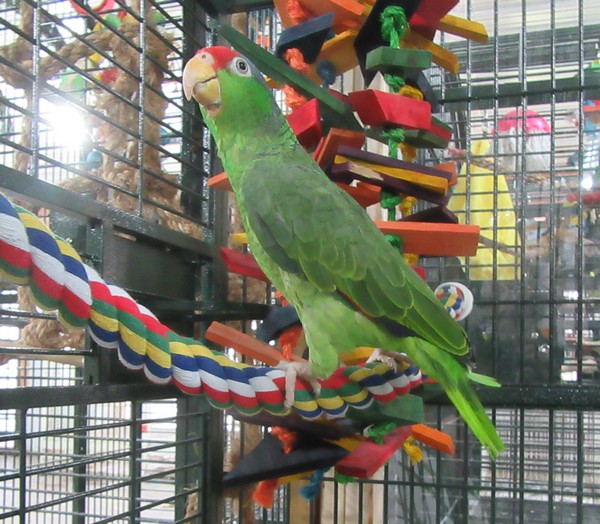 Peanut is a female greencheek (Mexican Redhead) aged about 23. She's tame and gentle, but shy of new people.  She appears to be nervous about larger birds and noise...needs a calm quiet home with a small flock and patient people.

ADOPTION PENDING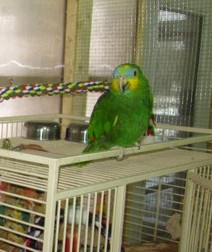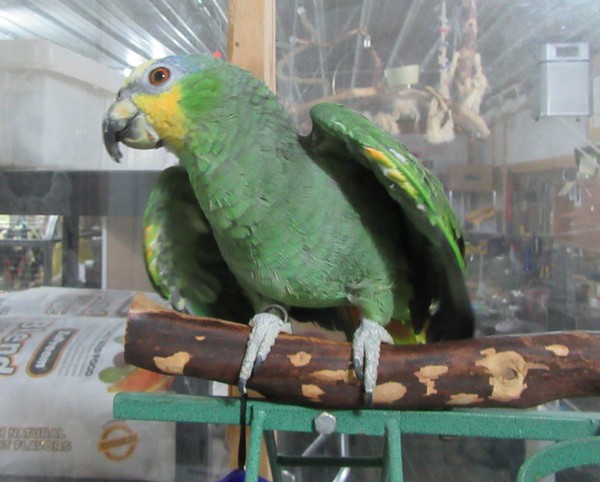 JennyLynn is a male (!) orangewing about 1 years old. He's tame and steps up well, will sit on a shoulder. He doesn't do well around other birds, and needs a home where he can have a lot of human time and not get in trouble when he's out of cage...he wanders sometimes.