BEFORE APPLYING:

1. We never place birds with smokers. This includes people who "only smoke outside", at work, in the car or anywhere..

2. Birds are never shipped.

3. We never place birds with minors. This also means parents cannot sign for their children.

4. If you adopt you will sign a legally enforceable contract. 
CONTRACT
APPLYING

or

Iowa Parrot Rescue

2479 Golden Ave.

Letts, IA 52754

Please answer the application questions as completely as possible.The more information we have, the better we can help find the right bird for you.

??????????????????????????????  FREQUENTLY ASKED QUESTIONS ???????????????????????????????

1. How much do you charge for your birds?

   We don't charge adoption fees. You are welcome to make a cash donation or volunteer at the rescue.

2. How long does it take to adopt a bird?

  That depends. Some happen very quickly, others can take several months. It depends on your bird skills, the birds we have available and how quickly the bird you have chosen feels comfortable enought ot go home with you.

3. What birds do you have for adoption.

  You can see the available birds
here.
4. Can I adopt more than one?

  In general, yes.  We like birds to have a bird friend. Parrots live in flocks. They usually  feel safer with another bird

  nearby. 

Once your application has been received, it will be reviewed and we will contact you to:

1.  Schedule a visit to the rescue.  When you visit the rescue you will be ble to see all the available birds and interact with them. You might  begin by wanting to adopt a speicific kind of parrot, but end up adopting a different bird because you find the right chemistry with a bird you had not considered before.  A visit to the rescue also lets us see how you interact with the parrots and how comfortable they are with you, what your skill level is and how we can help you improve your bird skills.  Even after we are all agreed on the right bird for you you might need to make several visits because the bird needs more time to interact with you and build the trust needed to go home with you. You will need to sign a release when you visit because of liability issues in case one of the birds bites you or causes damage to your property.

2. Schedule a visit to your home. It's very important for us to see the environment where your bird will be living. Seeing your home can help us help you figure out where in your home your bird will live.  Some birds like to be the center of the activity. Other birds like a more secluded area to feel safe. One bird might like to be near windows, while another might be terrified. Some birds are frightened by violence on television. Other like to listen to the radio and musical tastes can vary.  We can also help you identify potential dangers to your bird and eliminate those before your bird goes home with you. If you live more than 50 miles away you will need to pay for gas for us to drive to your home. Currently we have people able to do home visits in the Chicago, Milwaukee,  Madison, most of Iowa, and northern Indiana areas.

3. Find the right bird for you.  Sometimes this happens very quickly, sometimes it requires patience to find the right match. Parrots given the proper environment and care can live a very long time. It's worth taking the time to make sure the match is a good one.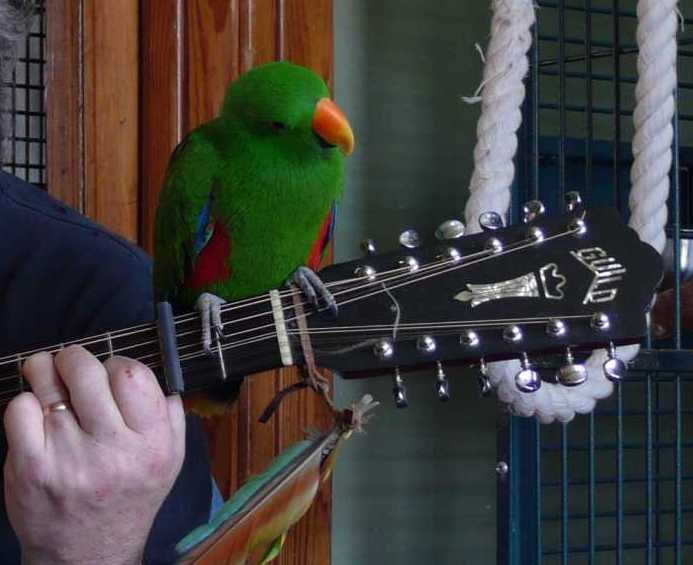 Adoption applicants will be able to make appointments to visit on Wednesdays, Thursdays, Fridays, and Sundays, between 2 and 4 PM. Please schedule via email only...I need this so I can access records.

All visitors must show completed vaccination cards, including boosters. All visitors must remain masked at all times. We'll only schedule two visits per day, so as to prevent overlap.

If your application is on file, please mention it when you email to schedule, and be sure to specify the name that is on the application.