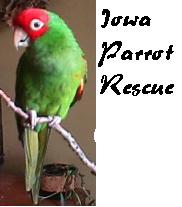 Obviously, it costs to operate this sanctuary. There are food bills, veterinarian bills, cages and carriers, toys and perches...all the things birds need. Then there's the cost of traveling to pick up birds and to take them to new homes. Iowa Parrot Rescue charges no adoption fee, We usually send the bird's cage, toys, etc. with it when it's placed. 

  . We gladly accept donations. We are a 501c3 tax exempt public charity, and donations are tax deductible. We mail receipts for tax purposes to all donors.

We are happy to accept gifts designated in memory of either loved pets or people. A separate page lists these memorials, and we'll post a picture with the listing if you like. Memorial Page
If you'd like to endow a specific function, such as a fountain, play area, or something like that, we'd be happy to discuss it with you.

                           DONATE via Paypal

Paypal no longer includes mailing addresses when they notify me of donations. If you donate via Paypal, and would like to receive a receipt and card, you'll need to drop me an email with the mailing address.

Want to know where the money goes? Click
HERE
to see our financial reports.
DONATE BY SHOPPING ON AMAZON.COM                             SHOP THROUGH GIVING ASSISTANT                 

DONATE BY SENDING A CHECK 

Iowa Parrot Rescue

2479 Golden Ave

Letts, IA 52754

HERE ARE  WAYS YOU CAN DONATE

You can also help by purchasing our tshirts CLICK HERE to see them
While you're shopping on AmazonSmile, you can also see
OUR WISHLIST
, and buy directly for the birds from that.